There is an article in the TJ this morning discussing the possibility of tax rises.  We have been over this a dozen times but I will restate my position that New Brunswick should strive to have tax rates in line with the rest of Canada (i.e. somewhere approximating the average level).  Beyond that it should use the tax code strategically to drive the kinds of changes it wants or the investments it needs.
As of now, New Brunswick is below average on a wide variety of taxes.  On business corporate taxes, New Brunswick is lower than average.    The three tables below show that New Brunswick is around the median level for income taxes at $40k/year compared to the 10 provinces, slightly below median for taxes owed at $75k and below the median at the $150k level. Capital gains and dividend rates are also lower than the median.  Even on the sales tax, NB has a lower one than PEI, NS and Quebec and the same as Ontario and Newfoundland.
It was only a couple of years ago we had this debate.  The government took the axe to a number of tax rates telling us that it would stimulate massive economic growth.   My economics world view runs right of centre but that didn't cut the mustard for me.  When I looked at the high income earners in New Brunswick the list was majority populated by doctors, lawyers, bureaucrats and other occupations that are not particularly mobile.   Yes, some high priced IT or management talent may be reluctant to move here because of tax rates but their overall cost of living should still be lower than most alternatives.
Let's get our tax system in line with the rest, get our fiscal house in order and make targeted investments in the kinds of things that are going to grow the private sector economic base of the province.
Income Taxes Owed 2011: $40,000 income level
Source: Ernst & Young Income Tax Calculator
Income Taxes Owed 2011: $75,000 income level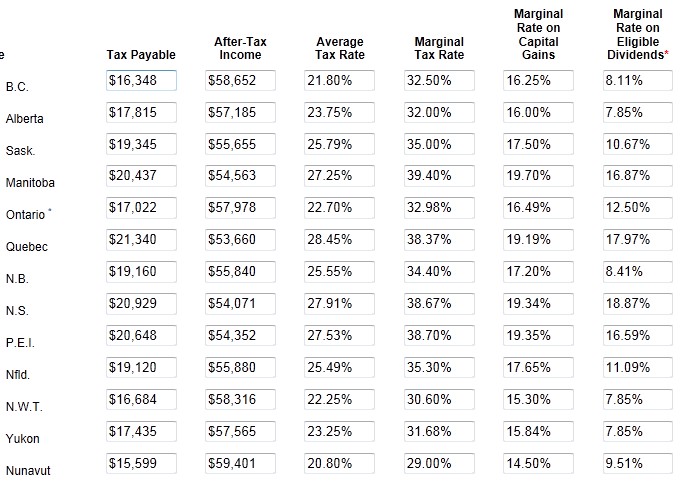 Source: Ernst & Young Income Tax Calculator
Income Taxes Owed 2011: $150,000 income level
Source: Ernst & Young Income Tax Calculator